FIRE ISLAND WIND background information
---
ISSUES ON THE MOVE!
WATCH if concerned about your electric bill:
AEA-Alaska Energy
---
---
DIRECTOR VOTING SCORE Who are the Consumer Champions and who are the Sellouts?
"By their votes you shall
know them!"
---
Chugach members reject scare mongering
3/30/09 Uwe Kalenka OpEd
3/22/08 Alex Gimarc OpEd
4/2/07 Ray Kreig OpEd
---
CHUGACH ELECTRIC
SALARY LIST (2008)
Provided by Chugach Electric under member information bylaw
---
UPCOMING LABOR NEGOTIATIONS in 2010!
with IBEW on both sides of the bargaining table.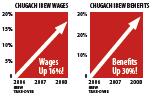 ---
SELF HELP TO LOWER YOUR ELECTRIC BILL
Save money without freezing in the dark!
---
DON'T BE FOOLED!
Front groups of the IBEW Union:
* Chugach Customers
(Ernie Hall, Chair)
= IBEW Union
* Chugach Reliability Group
= IBEW Union
* Chugach Action Committee
= IBEW Union
Remember:
IBEW Union = special
interest, not your interest
---
HELP US HELP YOU!


(Thank You!)
---
CHUGACH CONSUMERS
Learn more about us









12/19/07: Unprecedented Blue Ribbon Panel of top executives tasked by reform board to investigate Chugach Electric problems









---
Fatally flawed GRETC [Greater Railbelt Energy and Transmission Company] stopped - 4/1/10 Chugach Consumers testimony - Events & Document Log - New State Agencies governed by self-protecting utilities holding monopoly service territories are not needed. Reforms favoring open competitive entry by free enterprise private sector firms to drive down the currently high costs being paid by Railbelt consumers are!
---
2010 Chugach Electric Elections
Valid Ballots Cast: 10,147
Members eligible to vote: 66,375
Member participation: 15.3%
Election results - top two elected:
| | | |
| --- | --- | --- |
| Candidate | Votes | |
| Susan Reeves | 5,408 | IBEW-backed* ELECTED |
| PJ Hill | 4,929 | ELECTED |
| Alex Gimarc | 4,746 | Pro-consumer |
| Riki Lebman | 4,472 | IBEW-backed* |
Right after these results were announced, Jim Nordlund was installed as board chair, Janet Reiser vice-chair, Susan Reeves treasurer, Pat Kennedy secretary.
*

Susan Reeves

&

Riki Lebman

were b

acked by IBEW

Union

front group

(

Chugach Reliability

)
---
Valid Ballots Cast: 10,439
Members eligible to vote: 66,034
Member participation: 15.8%
Election results - top three elected:
Candidate
Votes
Backing

Pat Kennedy

5

,157

IBEW-backed ELECTED

Jim Nordlund

5,015

IBEW-backed

RE-ELECTED

Steve Pratt

4,864

Pro-consumer

Uwe Kalenka

4,784

Pro-consumer
Right after these results were announced, board chair Rebecca Logan retrenched on transparency reforms and guided the board into making the election of board officers SECRET. Logan last year pulled off a surprise take over and was elected board Chair with the support of IBEW Union backed directors. By this secret process these 2009 officers were appointed: Rebecca Logan, Chair, Jim Nordlund (IBEW-backed), Vice-chair, PJ Hill, Treasurer & Alex Gimarc, Secretary.
Of interest in these results: The IBEW Union had ALL the money in this election. There were no ads or mailers for pro-consumer candidates at all! Yet only 150-373 votes ( 1.4 - 3.5% of those cast) separated the slates.









July 23, 2009 - Anchorage Mayor Dan Sullivan's 2009 Transition Team Report [Utilities Section] A candid treatment of issues surrounding Anchorage ML&P and other Southern Railbelt electric utilities. Not just the energy crisis and new generation but all parts of the customer value chain, especially distribution, are covered. Main chapter authored by former ML&P and ACS executive, Mary Ann Pease. The poor economic value received by electric customers is specifically identified.
---
Interesting FAA shots capture Natural Gas Plant Fire (December 17-18, 2009)
---

Tony Izzo's Illegitimate Degree -- Eddie Burke exposed this leader of the IBEW's 2008 team on KBYR and Izzo was NOT elected to your co-op board.
---