Chugach Electric Historical Summary Chart PRO-CONSUMER vs IBEW UNION INFLUENCED BOARD MEMBERS & GENERAL MANAGERS
---
ISSUES ON THE MOVE!
WATCH if concerned about your electric bill:









3/16/18 - Alaska Policy Forum - Prop. 10 - ML&P sale to Chugach Electric is a poison pill that will block REAL customer savings for years









12/19/07: Unprecedented Blue Ribbon Panel of top executives tasked by reform board to investigate Chugach Electric problems









July 23, 2009 - Anchorage Mayor Dan Sullivan's 2009 Transition Team Report [Utilities Section] Candid treatment of ML&P and other Southern Railbelt electric utilities. Not new generation but all parts of the customer value chain, especially distribution covered. The poor economic value received by electric customers is specifically identified.
---


FIRE ISLAND WIND background information
---


CHUGACH ELECTRIC
SALARY LIST (2010)
Provided by Chugach Electric under member information bylaw
---
5/5/11 - Conflict of Interest - Union Friendly Chugach Electric Candidates (Alex Gimarc) The IBEW wants favorable treatment when their contracts come up for renewal.
4/28/11 - The forces behind candidates matter (Alex Gimarc) About IBEW Union front group "Chugach Reliability"
---
---
DIRECTOR VOTING SCORE Who are the Consumer Champions and who are the Sellouts?
"By their votes you shall
know them!"
---
Chugach members reject scare mongering
3/30/09 Uwe Kalenka OpEd
3/22/08 Alex Gimarc OpEd
4/2/07 Ray Kreig OpEd
---
SELF HELP TO LOWER YOUR ELECTRIC BILL
Save money without freezing in the dark!
---
DON'T BE FOOLED!
Reiser, Robbins, Crawford, Henderson are the official IBEW Union Candidates!
---
FRONT GROUPS OF THE IBEW UNION:
* Chugach Reliability Group
= IBEW Union
* Chugach Action Committee
= IBEW Union
* Chugach Customers
= IBEW Union
Remember:
IBEW Union = special
interest, not your interest
---
UPCOMING LABOR NEGOTIATIONS for extensions to
with IBEW on both sides of the bargaining table.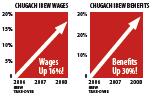 ---
HELP US HELP YOU!


(Thank You!)
---
CHUGACH CONSUMERS
Learn more about us
11/29/23 - ADN - Multiple groups hope to sway regulators as Chugach Electric seeks 6% rate increase - By Alex DeMarban - Also intervening for the first time in a Chugach Electric rate case are the American Association of Retired Persons Alaska, as well as Ethan Schutt, chair of the Alaska Permanent Fund Corp. board of trustees who said he's joining as an Anchorage residential ratepayer with experience in finance and energy development...JL Properties, which owns much of the city's commercial office space as well as multi-family housing, is a large ratepayer that has intervened out of concern that the proposed rates will impact its array of properties. "JL Properties states that it has an interest in determining if any of Chugach's stated economic benefits from acquiring ML&P have been or will be realized," the commission's order said.

6/28/23 - ALASKA UTILITIES WORKING GROUP - PHASE I ASSESSMENT: COOK INLET GAS SUPPLY PROJECT by Berkeley Research Group ("BRG") - In order to meet the expected supply shortfall, one or more options need to be selected to progress to an active engineering effort by the end of 2023. In order to meet the expected gas shortfall in 2027-2028, there is a limited set of options that can deliver, namely LNG imports in various forms, and all of them are still at a stage where uncertainties and risks related to design and feasibility need to be resolved before choosing a specific design configuration. Other options, such as a gas pipeline from the North Slope, can meet long-term demand most economically, but are not expected to be online by 2027-2028 or even reach a construction decision in the timeframe where alternatives would need to be sanctioned.
ADN - As Cook Inlet gas shortage looms, Alaska's biggest utilities assess their options — and none are cheap - By Sean Maguire - Chugach Electric and Enstar account for three-quarters of the Railbelt's natural gas. Arthur Miller, CEO of Chugach Electric, said in a prepared statement that the working group had found "that importing liquified natural gas is likely the least cost, earliest option available for the near term."
5/25/23 - Peltola demands Chugach and Matanuska Electric Associations tear out the Eklutna hydroelectic dam and generators and pay reparations to Eklutna Village! The letter, received May 18, was sent to CEA just as the board election was ending. The electric association board majority was taken over by the environmental industry, led by the Alaska Center for the Environment... The village estimates its population as 70. [Must Read Alaska]

5/10/23 - Alaska Attorney General Treg Taylor joins other states to block Blackrock from gaining control of utilities - The pushback from 16 state attorneys general comes at a time when Anchorage residents are facing a takeover of their power company, Chugach Electric Association, by the Alaska Center for the Environment in order to shut down the use of natural gas [Must Read Alaska].
---
2023 Election Results

6,725 Susanne Fleek-Green (Greens, IBEW Union) – Elected 4 yr term
6,417 Jim Nordlund (Greens) – Elected 4 yr term
6,258 Bettina Chastain (Chugach Stability*) - Elected 2 yr term
6,002 Shaina Kilcoyne (Greens, IBEW Union)
4,944 Harold Hollis (Chugach Stability*, IBEW Union)
4,056 Brad Authier (Chugach Stability*)
2,109 Steve Konkel
1, 871 Scott Von Gemmingen
1,341James Wileman

* also Chugach Consumers endorsed

14,156 voted (15.7% of the 90,210 ( members)

Establish a Round Up Program Bylaw
7,712 YES | 6,202 No
13,914 voted on the bylaws

The new board majority rolled the previous chair, Bettina Chastain and installed Sam Cason as new chair. Cason is a deceptive and cunning IBEW Union water carrier in long service to those benefiting from Railbelt Electric Utility inefficiency and waste.

Chugach Consumers 2023 recommendations:

Vote for

Bettina CHASTAIN, Harold HOLLIS and Brad AUTHIER

Vote NO on the bylaw change
(Establish a Round Up Program)
There are issues with this! Round Up programs offer customers the opportunity to give about $6 per year in a charitable giving program where the decision on which charities benefit are made by a Chugach Electric identified committee, not you the donor. It's bad enough that Chugach is already donating money to charities out of members electric-bill revenue. This bylaw is further inducing members to donate their own moneys for Chugach image building. We would prefer that Chugach instead prioritize getting good publicity by becoming more efficient and lowering members electric costs!!

WHY VOTE FOR THEM?
I WANT TO KNOW MORE!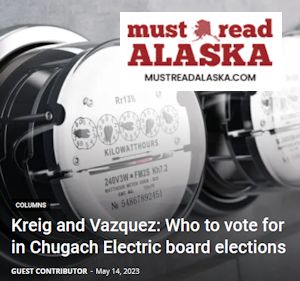 additional
CANDIDATE and SITUATION ANALYSIS
Ray Kreig, Chairman, Chugach Consumers
---
PAST YEARS EVENTS