FINALLY IT'S DEAD!! SOUTHERN INTERTIE CIRCUS ENDS AFTER $7 MILLION WASTED - CHUGACH ELECTRIC CLAIMED:
IN PUBLIC - $19.4 MILLION NET BENEFITS
IN "SECRET" - $67.4 MILLION NET LOSS!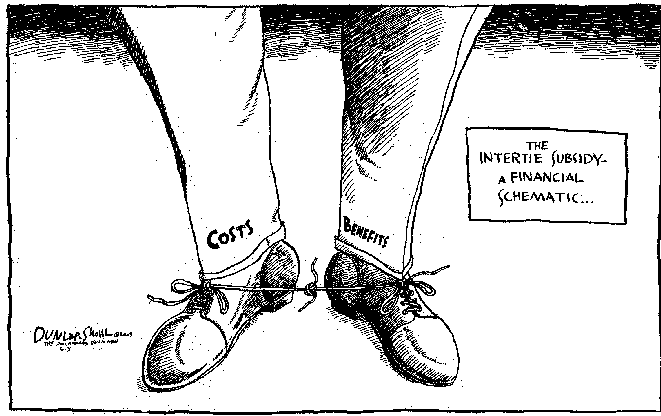 BACKGROUND BRIEFING


PUBLIC versus "SECRET" NUMBERS


PUBLIC TESTIMONY


QUESTIONS CHUGACH AND ML&P REFUSED TO ANSWER

COST-BENEFIT REPORT HISTORY (Mitchell Chart) (Table)


COST BENEFIT ANALYSIS SHOULD IT BE BUILT AT ALL?? Reliability
RAILBELT UTILITIES SET FINAL "DECISION DATE" AS 7/15/03
THE BEST SOLUTION IS TO ASK THE LEGISLATURE TO REAPPROPRIATE THE $70 MILLION IN STATE SUBSIDY TO REDUCE SOUTH CENTRAL UTILITY AND MUNICIPAL, SCHOOL DEBT (AMOUNTING TO $525 PER HOUSEHOLD).
TAKE ACTION: CONTACT YOUR LEGISLATOR, MAYOR, ASSEMBLYMAN, COOPERATIVE BOARD MEMBER TODAY!
---
Please send comments or questions to: CHUGACH CONSUMERS

| | |
| --- | --- |
| Created by volunteers concerned about our community. We hope it is useful and that you learn a lot about efforts being made to reduce your electric energy costs and what you can do to help yourself! | |